Ductless AC Services in Dallas
Have you noticed an energy bill spike in the hot months, but your home isn't getting cool? As any homeowner will know, each person in your household has various demands for their temperature settings. With a central cooling system in place it can be difficult to make everyone happy. At Cowboy Services we offer customers the option of installing a ductless mini split AC system. Ductless HVAC systems are flexible, high- efficiency choice for home owners looking for simple zoned comfort solutions.
WHAT IS A DUCTLESS MINI SPLIT SYSTEM & HOW DOES IT WORK?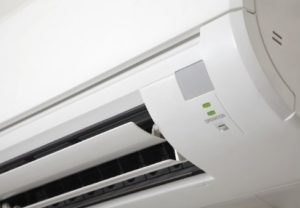 A ductless mini split air conditioner is a great option for homes without existing ductwork; you can cool multiple rooms without a major remodeling project.
A ductless mini split HVAC system, just like a regular air conditioner, has an outside condenser. However, this condenser unit connects to multiple indoor air handling units throughout your home. This allows for various areas of your home to have different temperature settings to accommodate the demands of each household member.
At Cowboy's AC Services we offer our customers the best installation services for new ductless mini split systems in Dallas.
WHAT ARE THE BENEFITS OF THESE UNITS?
Zone control- One of the unique features of ductless air conditioning is that they naturally provide homeowners with the ability to adjust the temperature of different areas of their home independently of each other
Reduced energy usage– One potential benefit of a ductless split system is the reduction of energy usage because of zone control. If you're able to target your heating and cooling, then you can avoid using energy to heat or cool unoccupied
No air leaks– Ductwork in a home can leak air and waste energy. It's also nearly impossible to eliminate all gaps around a window unit, or portable air conditioner. A ductless mini split has no ductwork or awkward window installation to leak in the first place, so you can rest east knowing that your hard earned money isn't literally blowing away.
WHY YOU SHOULD HIRE A PROFESSIONAL?
You can count on our technicians for your ductless mini split service needs. We offer outstanding ductless mini split installation, repair and maintenance in Dallas, TX and the surrounding area. Speak with a ductless heating and air conditioning expert at Cowboy Services today to learn more.