Trusted AC Tune-up Services in Dallas
Is Your AC Ready For Summer?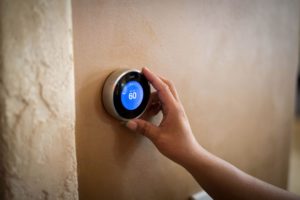 Let Cowboy Services conduct an air conditioner tune-up to keep your HVAC system running in top shape throughout the Dallas Summer. Dallas might enjoy mild winters, but summer is not so kind around here!
We can help turn your home into a refuge when the weather outside becomes too hot to bear. By scheduling your annual AC system check-up as early as Spring, you can ensure that your cooling system runs at peak performance even during the hot summer months.
To improve the lifespan of your equipment and maintain the efficient operation of your air conditioner, we recommend a professional AC tune-up each year before the Dallas heat kicks in.
Conducting precision tune-ups and professional cleaning for your air conditioner will be beneficial in the long run because it prolongs the life of your HVAC system and saves you from unexpected repairs. Furthermore, a fully-functional cooling system will guarantee that you save money on your monthly utility bills. So, call Cowboy Services AC & Heating to schedule an AC tune-up in Dallas today!
During the year, your AC system accumulates dust and dirt, preventing it from running efficiently. This is why we conduct air conditioning tune-up services. Our trained technicians conduct a series of inspections, measurements, and calibrations to keep your HVAC system working at optimal performance and prevent future breakdowns.
At Cowboy Services AC & Heating, our trusted AC tune-up services in Dallas is one of the best trusted and is more than just preventative maintenance. We make sure you have the capacity to stay cool during the peak of summer in Dallas. This is why people who need Dallas AC repair service look to Cowboy Services.
The Dallas AC Repair Service
Cowboy Services is pleased to be known as one of the best HVAC companies in the Dallas Area. We are the Dallas AC repair service. We always try to remind people about why proper AC maintenance is so important. You can realize these benefits from properly maintaining your AC system:
Improved Air Quality
Air quality is important for everyone, but it is especially important for those who suffer from respiratory issues. A properly maintained AC system helps to improve the indoor air quality by filtering particulates in the air. Filtering out particulates like soot, dust and pollen improves air quality. This is crucial for adults and children with respiratory issues.
Extended Equipment Life
A properly maintained AC system is able to work optimally through the life of the equipment. Dust and other obstructions can build up on your system throughout the year. If this is never cleaned, your system will have to work harder to produce the same result. This will put a strain on the entire system. Proper maintenance can help avoid unnecessary fatigue.
Better Energy Efficiency
When you properly maintain and clean your AC system, a wonderful thing happens. A clean system is able to produce cold air better. This means you'll have to run it less time to get the same amount of coldness. This is more money in your pocket while enjoying a reprieve from the extreme temperatures outside.
Less Money Spent on Repairs with Dallas AC Repair Service
When a Cowboy Services technician comes to perform maintenance on your AC system, they check every part of your air conditioner. This means that you'll be able to catch any parts that are on the verge of going bad or breaking. You'll be able to replace the failing part then, rather than wait for an expensive emergency call during a heatwave.
Our 17-point AC Tune-up Includes
Check refrigerant level – If your AC system becomes low on refrigerant, it will not work properly.
Inspect condenser fan motor – The condenser fan keeps your AC unit from overheating and is an integral part of your AC.
Check contactor points – This controls the flow of power to components of your AC unit. If it fails, the entire unit will fail to cool.
Clean or replace standard air filter – Air filters ensure that you have improved air quality in your home.
Check squirrel cage – Proper maintenance of the squirrel cage will ensure your cool air goes where you want it.
Calibrate thermostat – An improperly set thermostat means that your cooling system will not turn on or off at the proper times.
Check low-voltage wiring – On the unlikely chance that a critter or other nuisance has gotten to your wiring, we ensure proper functioning.
Check disconnect box – The disconnect box is where your AC unit gets its power.
Conduct full energy audit of A/C system – An AC unit needs to be run at the proper voltage meant for the unit. Any variance in that amount can be indicative of problems later.
Check compressor – The compressor compresses the refrigerant gas and is an important step to producing cool air.
Tighten all electrical connections – Loose electrical connections can lead to failure of the AC unit.
Inspect condenser coil – This component helps to dissipate the heat that is produced by your AC unit.
Check evaporator fan motor – This fan ensures that your AC unit does not freeze.
Inspect temperature drop at coil – This is an easy way to ensure that your AC unit still has the power to cool your home.
Check fan relay – All fans have to be in proper working order to get the best results from your AC unit.
Inspect plenum – Inspection of the plenum ensures that there are no leaks in the unit.
Consult with you on your system – This last step helps you understand your AC system and what you can expect from it in the future.
Be Always Prepared with Cowboy Dallas AC Repair Service
We offer annual maintenance agreements that ensure you receive three, super AC tune-ups per year and receive discount rates for all of the products and services our company has to offer.
Our maintenance plan is the perfect way to ensure that your AC unit is always working at its best. Our thorough inspections by trained staff means you don't have to worry about feeling uncomfortable this summer. Keep you and your family cool and offer a reprieve from the hot Dallas summers by signing up for Cowboy Services' AC maintenance plan.
For more information, please contact us. If you need help with AC repairs, visit our repair page. No problem is too large or too small for us to handle. Give us a call today to get your AC unit working at its best.
Peace of Mind Comes with Proper Maintenance
Have you ever had a hard time falling asleep at night knowing there was something you were supposed to do but didn't? We all have those pangs of regret when we know we should have taken care of something but didn't.
Don't let this happen to you and your AC system. After we complete your tune-up, you'll be relieved knowing that your AC unit is in the best shape for the season. You won't have to worry about your AC system breaking down. With proper maintenance, you don't have to worry about it breaking down.
And with Cowboys Services Maintenance Program, you'll sleep well knowing that you are given priority service and discounts of any service that are needed. Our customers know that they are well taken care of.
Call us today at 214-775-9971 or contact us here to get a call from one of our AC repair professionals.