AC Repair Services in Dallas Help Keep you Cool All Year Long!
You don't have to endure hot temperatures when you can call Cowboy Services AC & Heating for prompt and reliable AC repair service in Dallas. We are the heating and AC repair Dallas chooses when they have issues. Homeowners know we go the extra mile to make sure our clients are fully satisfied with the quality of our work. This is why when looking for AC repair service, Dallas more often than not chooses Cowboy Services.
Our owners and technicians have been providing home AC services in Dallas for more than 35 years. We've maintained a positive customer satisfaction rating by providing quality service that our customers can rely on. Trust Cowboy Services Dallas for all of your affordable home AC and heating needs.
Here's What You'll Get When You Choose Cowboy Services As Your Dallas Heater Repair Service:
Fast, Same-day Service – We know that when your AC or heater unit breaks, you need it fixed. Not next week, not tomorrow. You need it fixed right now. That's why Cowboy Services goes to every effort to be the AC repair service Dallas goes to when they need their AC fixed right way.
Prepared to Fix Your AC in One Visit – Have you ever had a repair person come to your home, only to say they couldn't complete the job because they were missing parts? It seems silly to make the appointment and not complete the job. This is why Cowboy Services always keeps our trucks fully stocked. We know what we'll need to get the job done. All you'll have to do is kick back and enjoy your fixed AC unit.
Full Home Evaluation Ensures This Repair is Your Last – Cowboy Services completes a 17-point inspection when we make service calls. This ensures that we don't fix one part, just to have another part fail. We go through your entire HVAC system to make sure we fix it right the first time.
Spend Less on Utility Bills – When you call Cowboy Services to service your AC unit, we make sure to go over the entire system. This guarantees that your unit is working as well as it is meant to. This also means the system will be more efficient. High efficiency means you are spending less money running your system.
Increased Comfort in Your Home – Cowboy Services makes sure to evaluate your entire HVAC system. We offer ways for your system to perform better, and this equals a more comfortable home for you!
Technicians You Will Love Having Around – While your AC unit breaking down might make your home uncomfortable, Cowboy Services does everything we can to get your home back to where it should be. We have over 35 years' experience and only hire qualified technicians.
AC Repair Dallas: Professional Service You Can Count On
When providing air conditioning repair services in Dallas, you can be rest assured that our team of courteous, professional technicians will respect your time and home while performing a series of inspection checks and services to ensure no detail goes unnoticed. In addition, we sell and install only the finest quality, most efficient air conditioning and air purification systems to ensure your home will be cool and comfortable all year long.
But what really sets us apart is our customer service. Cowboy Services is more than just a name…it's our promise to you. We're committed to your satisfaction. We offer all our customers 24-hour emergency service, quick response times, and friendly, professional service.
Why Replace Your Air Conditioner or Heater?
Replacing your home's air conditioning or heating system can offer a variety of benefits, including:
More Money in Your Pocket – If your AC unit is old, it's probably burning through your hard-earned money. Old AC units are nowhere near as efficient as newer units are. This means that if you replace that old unit with a newer one, you could be saving hundreds of dollars (if not more) over the life of the unit.
Boost your Property Value – When buying or selling a home, an old AC unit can be a real sticking point. By upgrading your AC unit, you can have more leverage when selling a home.
Better Air Quality in your Home – A newer AC unit just plain works better. Newer AC units are designed to move air more efficiently as well. This means that more air is going through your filter. This helps rid the air in your home from dust and pollen particles. You can breathe easier with a well-maintained AC unit.
Less Noise Pollution – High Efficiency Air Conditioners use less power to produce the same result as older models. They also operate much more quietly.
Have a Smaller Carbon Footprint – New AC units often are able to work much more efficiently. This means that you'll be able to have your AC work better. You'll also have to use it less time to produce the same result. By using a high efficiency AC unit, you'll be using less energy and producing a smaller drain on natural resources.
More Comfortable Home – Because new AC units are more efficient, they are able keep more home cooler. They will not be struggling and working all day to keep you and your family cool.
Save Money and Stay Cool with Our AC Repair Services & Maintenance Plans
Cowboy Services is one of the best names when it comes to AC repair services in Dallas. We offer emergency repair in the even that your unit malfunctions, but we also offer an annual service agreement.
Our service agreement provides you with three tune-ups per year for your AC unit. By keeping your unit properly maintain, you drastically decrease the chance of being caught off guard when the heat is on.
Our trained technicians go through a comprehensive 17-point inspection of your AC system. We're sure to check all parts and this gives us the chance to fix small problems before they become a huge headache for you.
We Service & Repair Any Brand of Air Conditioner or Heater!
When it comes to AC repairs, Dallas counts on Cowboy Services to make sure they stay cool when it gets warm. Dallas experiences some large temperature swings throughout the year. This is why it is always important to keep your heating and cooling systems in the best shape possible.
Dallas residents count on us to zero-in on the root of their unit's problem, regardless of its model and make. We bring to the table over 35 years of experience and continuous training. We can work on almost any type of cooling system available.
We service all brands of air conditioners, including Rudd, Carrier, Bryant, Lennox, Trane, Payne and more. Do you have an older model AC unit? No Problem. We are also experienced in repairing older AC models. This means that you'll be able to keep your existing AC unit going with just minor repairs.
Some of the services included in out 17-point inspection are:
Refrigerant level check – this important step ensure that your AC unit isn't working for nothing. If you don't have refrigerant, your unit will never produce cool air.
Clean or replace air filter – This step promises high quality air is being pumped through your HVAC system. The filters help remove pollen and dust from your home.
Conduct energy audit of your A/C system – This step ensures that your AC system is connected correctly and is not leaching voltage or wasting power.
These are just a few steps we take to make sure your AC system is in top working order. If you'd like to read more about our 17-point inspection, check our AC tune-up page.
Call Us for Emergency Air Conditioning Repair Service in Dallas
If you are in need of AC repair services in Dallas, be sure to call Cowboy Services. We have the experience and skilled staff to keep you cool when the mercury rises. Call us today at 214-775-9971 or contact us here to get a call from one of our AC repair professionals.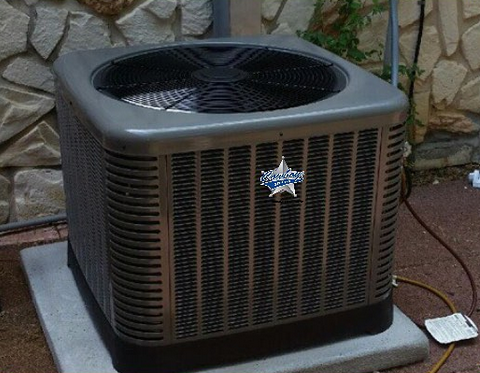 Call us for emergency air conditioning repair service in Dallas. Our team is ready to serve your cooling needs, 24/7.